If you've made your holiday plans to do in Fethiye, we strongly recommend you to take part in the Fethiye Rafting tour on the Dalaman River among the dozens of adrenaline-filled activities. If you end your holiday without performing this adventure-filled activity, you will be deprived of an activity that will become one of your memorable activities.
If you want to experience an adventure full of adrenaline in the cool waters during your holiday period of summer heat in the Fethiye region, you can find the details in our blog post.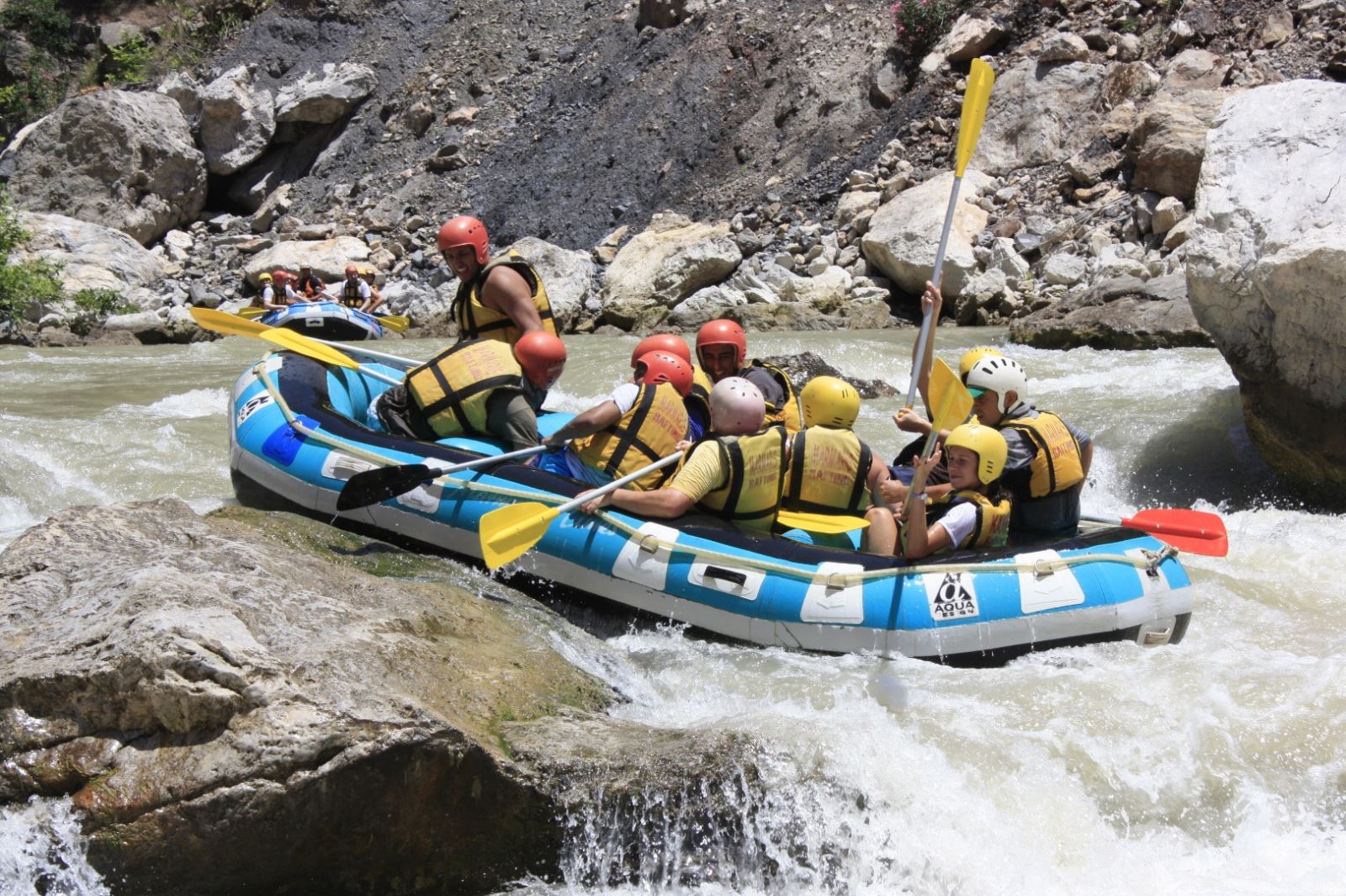 Let's Talk About Dalaman Stream
Turkey is one of the regions in Turkey with the most favorable conditions for rafting thanks to with its geographical conditions. Dalaman Stream is a wonder of nature which is surrounded by giant rocks and among the pine forests where cool waters flowing with white foams flow. These pleasant times that you will live in this natural wonder will become the most special memories of your life.
Dalaman Stream begins on Kocaş Mountain near Dirmil and its total length is 229 Km. Dalaman Stream which is located between Fethiye and Marmaris is poured into the sea from the 8 km south of Ortaca.
Things You Should Know About Rafting
You don't need to know pre-training or previous experience to do rafting.All rafting boats are equipped with experienced rafting guides who know about the nature.We have the chance to perform this exciting activity with the confidence in guides' accompaniment and control. In addition you don't need to know how to swim to participate rafting tours. You have the chance to complete the tour without any danger With the latest technology boats and life jackets .
In short, if you don't have any health problems such as panic attach or swim obstacles and if you are over 16 you can enjoy this funny tour.
<Please Click For detailed information about Fethiye Rafting Tour and booking >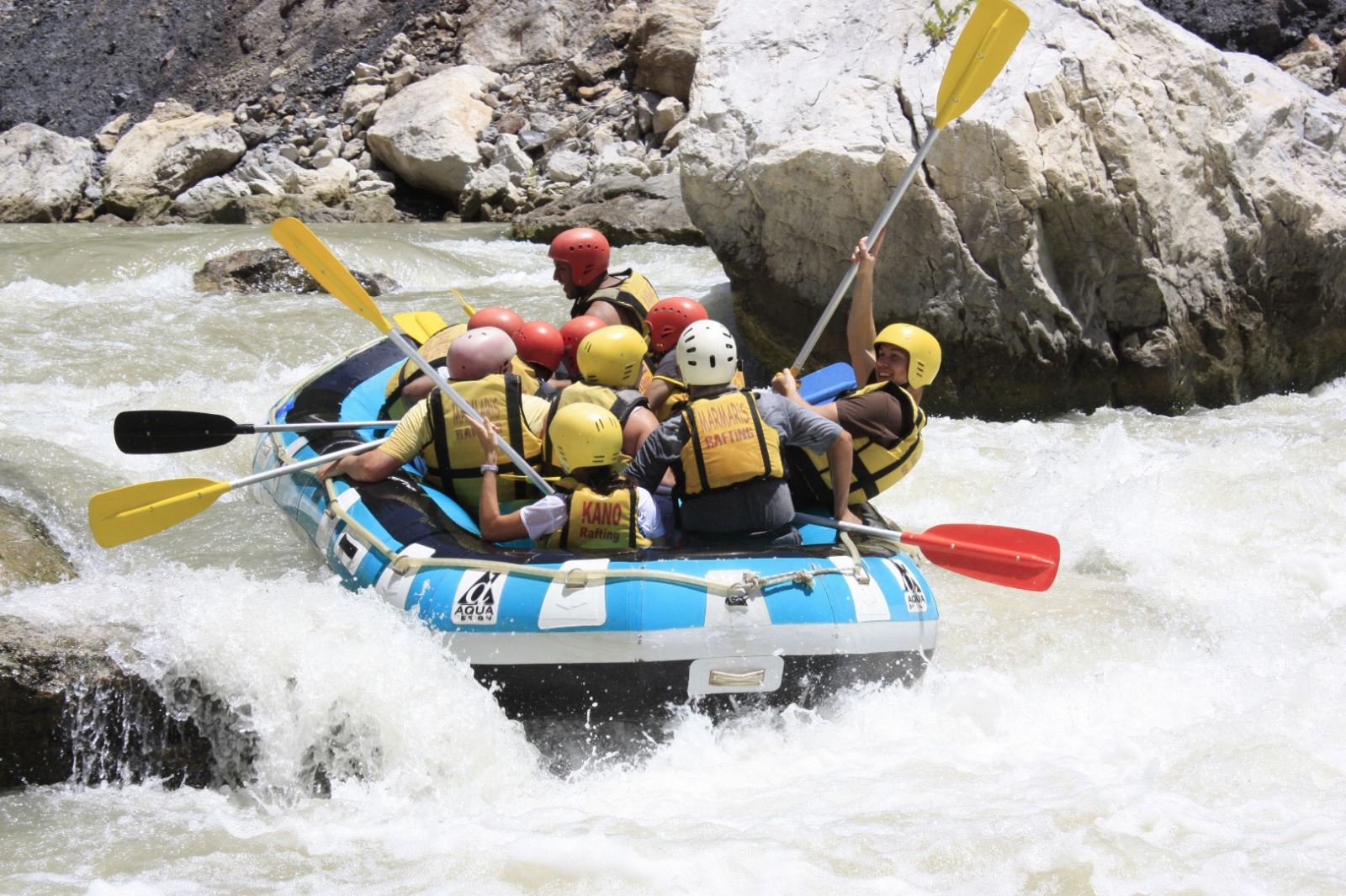 What is included in the rafting tour?
The tours, which start with the fascinating and dizzying view of the Taurus Mountains, continues with the stop on the way and a delicious village breakfast. After breakfast, essential items for rafting such as life jackets, helmets, rafting shoves and rafting shoes are delivered to all participants. After getting the necessary equipment, we move to the starting point and according to the maximum number limits of boats, we place to boats. Here, our rafting guide gives us warnings about the rules and important information that we must follow strictly. Now, adventure time...The screams echoing in the Dalaman Stream with the movement of the boats show the beginning of a colorful organization. At the end of a long and tiring but entertaining tour, restaurants are waiting us for lunch in this paradise . After the lunch Fethiye Rafting Tour are completed with the unforgettable memories and our return journey begins.
Things to Take With Us For Fethiye Rafting Tour
Equipments for this adventure and fun-filled tour are provided by the tour companies. However, after a long and wet day, we recommend you to take your towels and dry clothes with you. In addition, it will be good to have some money with you to purchase your personal expenses or photos and videos that taken professionally during the tour.
If you want to be a part of such a memorable organization and add new unforgettable holiday memories with the professional rafting experience, you have the chance to benefit from the quality and reliance of Seaside Travel.
<Please Click For detailed information about Fethiye Rafting Tour and booking >
There are no comments yet. Do you want to write the first comment?