If you are on holiday in Fethiye, there are many natural places to visit. Fethiye is one of the most important places to visit in the Mediterranean Region. We have compiled for you where to visit in Fethiye and what to see. With its magnificent nature, vegetation and immaculate nature, you will feel more relaxed and fit and you will return your home with unforgettable memories.
Oludeniz is one of the top places to visit in Fethiye. Ölüdeniz should be first stop among the places to visit in Fethiye . Ölüdeniz comes to mind in first. Ölüdeniz is one of the most beautiful beaches you can see in Turkey. Also, it is a very famous place in the world, not only in Turkey. In many magazines, newspapers , you can find Ölüdeniz at the top. Its turquoise and blue color and fine sand offers a magnificent sea and this pleasure its visitors. Your feet will be enchanted by the soft sand and your eyes will see magnificant view.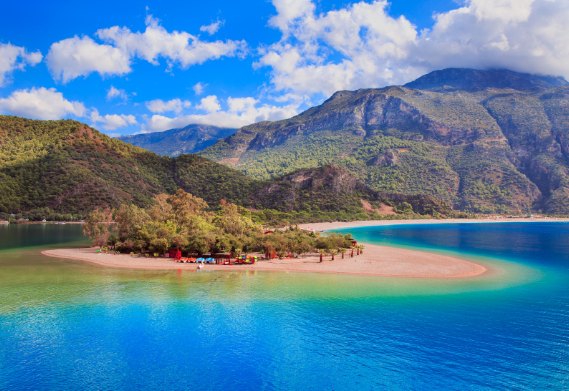 How to get to Oludeniz?
Oludeniz is a blue flagged sea with its clean water. Also, it is only 13 km away from the center of Fethiye. Transportation to Oludeniz is also quite easy. You can reach to the sea with buses departing from Fethiye center. Among the places to visit in Fethiye, you should put Ölüdeniz at the top of your list. You can leave all your stress here with its magnificent nature and clean sea. There are many activities that you can enjoy in Oludeniz. With daily boat tours, you can visit beautiful bays and enjoy swimming in the cool waters.
Moreover, Oludeniz is a very suitable place for families. With its shallow sea, Ölüdeniz has become a favorite place for families who have children. You can spend pleasant moments with your family on boat tours. Also it will be good to take your camera with you and take plenty of shots.
Places Should be Seen In Ölüdeniz
If you have decided to go to Ölüdeniz, the first place you should see should be Kumburnu Beach. You will not have to fight with the waves in this quite calm bay. Please note that entrance to Kumburnu Beach is chargeable and prices varies according to student or adult. But prices are quite reasonable.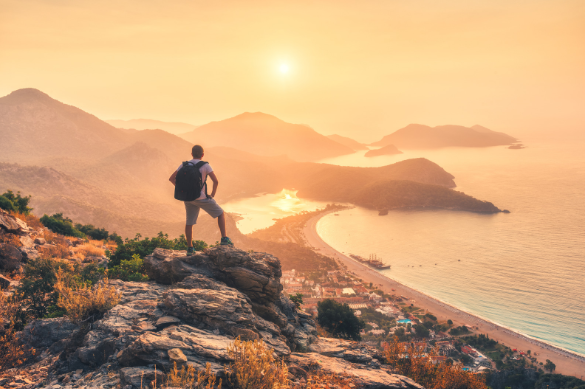 Kumburnu beach has a parking area that consist approximately 300 cars. Eating, drinking and sunbeds are also available there. But It is quite crowded especially on weekends and holiday times. If you have difficulty entering Oludeniz because of the crowd, you may prefer Belcekiz Beach.
Oludeniz Boat Tours are most popular activities among the preferences that you can do in Fethiye. In these boat tours, you will see beautiful bays and you will also have a feast of food.
Here you can see every shade of green. If you are going to spend your holiday in Oludeniz, you should spend at least 3 days here. After your holiday you will feel more energetic and healty.
There are no comments yet. Do you want to write the first comment?