You have lots of alternatives to make your holiday more colourful when you road to Fethiye region. These alternatives are combined under one roof in Fethiye while other holiday resorts' alternatives are not so.Fethiye Paragliding comes in the first line.
Adrenaline lovers take big enjoy by participating this activity and tourists who want to add precious memories to their holiday prefer this activity. Fethiye Paragliding should be added to the beginning of the list that will not be returned when you decide to make your holiday in Fethiye.
You will have the chance to experience the pleasure of floating freely in the skies with the professional pilots.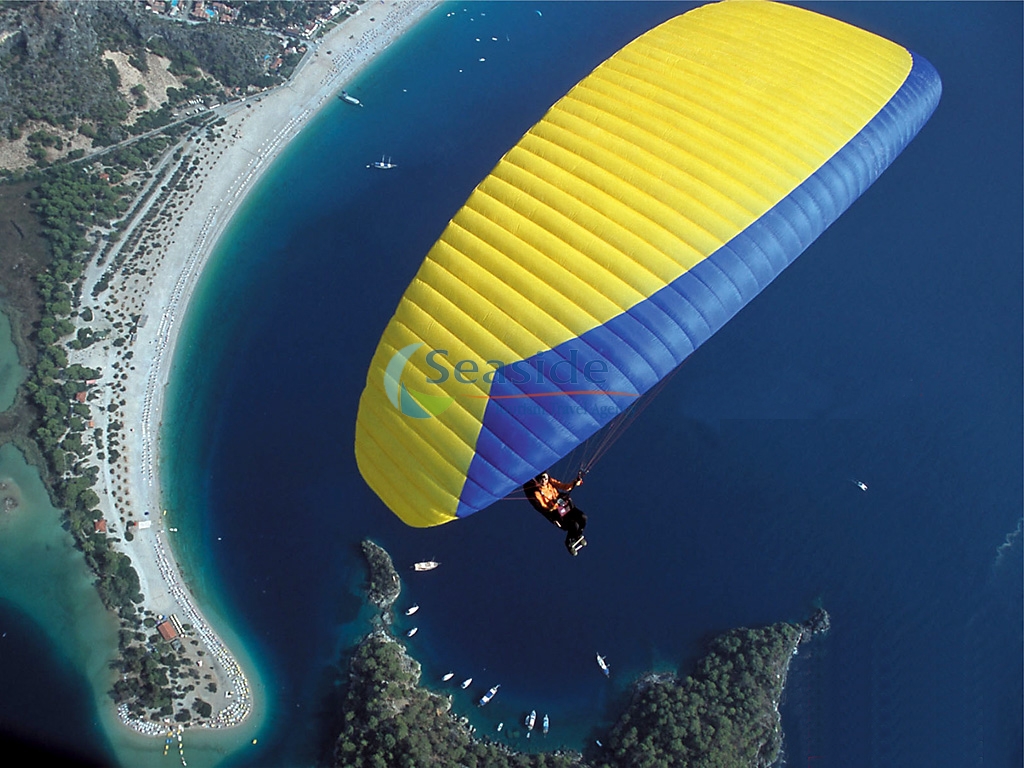 The Babadağ track where the jumps take place is shown among the few runways of the world with its facilities and features.With an altitude of approximately 2000 meters, this jump will be one of your most memorable adrenaline rides. After approximately 45 minutes of flight time, we recommend you to enjoy the cool waters by landing on Oludeniz beach.
You will fascinated with a unique Scene During the Flight
In this special organization , you will see all region from up until you make your jump over Babadağ which is one of the few runways of the world and descend to the warm sandy beaches of Ölüdeniz.
From the magnificent view of the Mediterranean Sea to the Lycian coast, from the exquisite color texture of the Taurus Mountains to Ölüdeniz, you will see view from above ad we said before,and this will be unforgettable experience for you.
Security Concern With Fethiye Paragliding
The first question of people who want to taste this superb experince is if the Fethiye Paragling is safety.Paragliding is one of the lowest risk sport and it can become completely safe with the company you choose. If you flight with an expert pilot, you overcome any safety questions and you leave with an endless satisfaction.
There are some rules and restrictions in flightings. For example, women should't be over 100 kgs and men should not be over 110 kgs. If you are over these weights, you you should contact with flight team and apply for proportion. In the same, length limitation is identified 2 metres.
Pregnant women and children under 4 years of age are strictly forbidden to participate. Patients with heart and blood pressure disorders and people with panic attacks are not prefered to participate in this activity.
What Should Be Considered While Choosing Fethiye Paragliding Company?
The first thing you need to ask is the age, quality of parachute equipment and if they are regularly maintained. Also, the experience of the pilot who will accompany you during the flight is one of the factors that affect your preference.
What Should We Take with Us For Fethiye Paragliding?
In fact, you do not require any prior preparation before the flight for Fethiye Paragliding. According to seasonal conditions, having comfortable shoes , clothes and sunglasses will allow you to enjoy the view from above during the flight.
Again, according to seasonal conditions, we recomend you protect yourself with sun cream.
If you want to experience the unique experience of Fethiye Paragliding which is considered to be one of the activities that you must experience in Fethiye with the quality and reliance of Seaside Travel which has taken all security measures and controls, you can reach us at +90 545 248 79 01.
We recommend you to book this tour, which is highly preferred especially in June - August, without waiting the last day of your holiday.
<Please click for detailed infprmation and booking about Fethiye Paragliding Adrenaline Tour>
There are no comments yet. Do you want to write the first comment?